CardioPrecision Founder and Chief Medical Officer Mr Fraser Sutherland has been honoured with a prestigious award at the 2023 ISMICS annual meeting in Boston, MA, USA.
The International Society for Minimally Invasive Cardiothoracic Surgery (ISMICS) annual meeting gathers pioneers, experts, and like-minded clinicians for advancing technology and techniques leading to less invasive treatment of cardiothoracic and vascular disease. Cutting edge original research and clinical advances are selected through peer-review to showcase at the annual meeting.
Mr Fraser Sutherland presented the proof of Concept Robot Assisted Totally Endoscopic Aortic Valve Replacement – Transcervical Approach, and was honoured with the Gründeman Scientific Research Award.  This Award is for demonstration of basic research or an early clinical concept that outlines a new innovation suited to Minimally Invasive Cardiothoracic Surgery.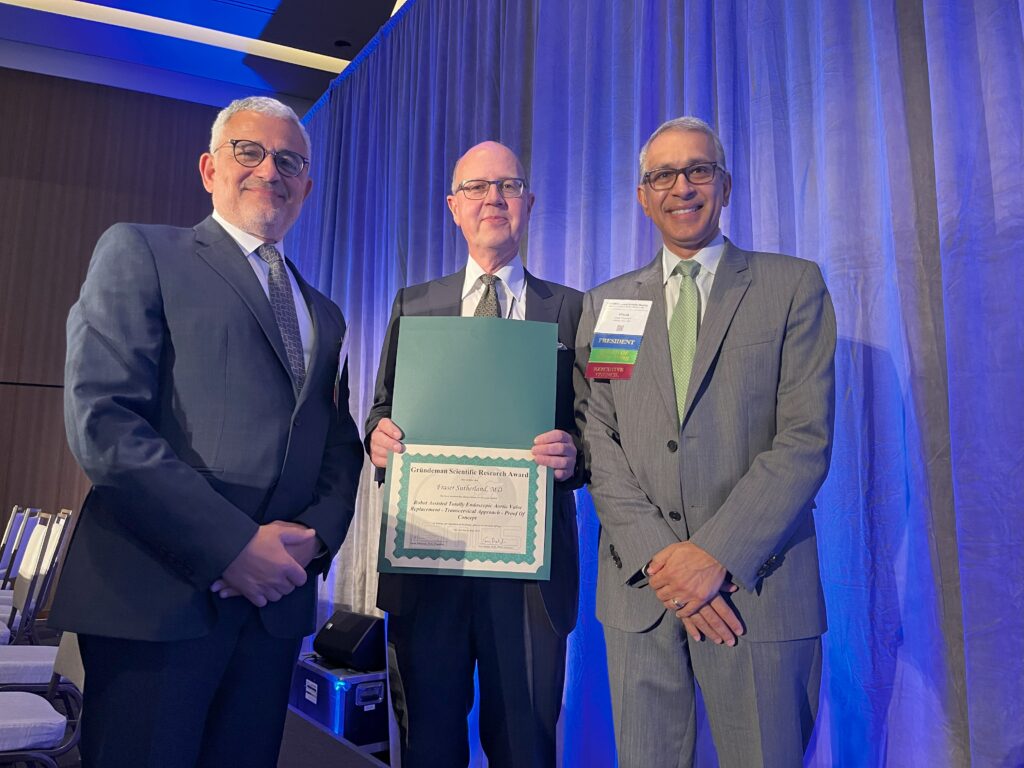 The award was presented to Mr Fraser Sutherland on 2 June 2023. He commented: "I am honoured to receive this awarded. The concept is to apply robotics to facilitate CardioPrecision's CoreVista® technology platform for transcervical uniportal access in cardiothoracic surgery. The robot provides surgeons with dexterity required to do these complex procedures quickly and safely."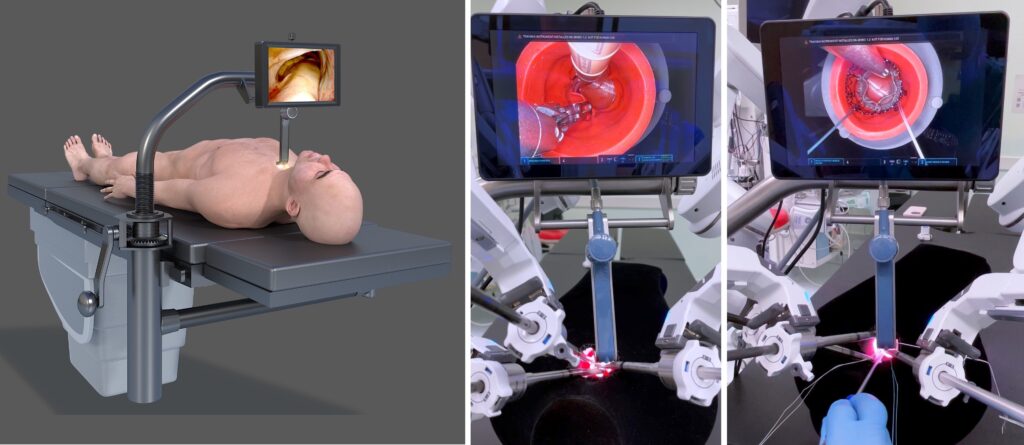 Dr Ying Sutherland, CEO of CardioPrecision, commented: "We are thrilled and delighted to celebrate Fraser being recognised by this prestigious award.  It validates his tireless endeavours, dedication, and achievements in the field".
CardioPrecision continues to push the boundaries for its innovative transcervical technology platform in minimally invasive cardiothoracic surgery, and the team is very much encouraged by the positive response in the surgeon community to Mr Fraser Sutherland's presentation at 2023 ISMICS.
About CardioPrecision Ltd
CardioPrecision Ltd, based in Glasgow, UK is the global leader in transcervical access for the treatment of structural heart disease and cardiothoracic interventions.  CardioPrecision is dedicated to making patients' lives better through the development of innovative, less invasive access solutions for cardiothoracic surgery and cardiovascular interventions.  For more information, visit www.cardioprecision.com
Cautions
This news release includes forward-looking statements. These forward-looking statements include, but are not limited to, statements regarding expected product benefits, anticipated product approvals, future plans related to the product lines, the benefits of the transaction, including future financial and operating results, objectives and expectations and other statements that are not historical facts. Such statements are based on the views and assumptions of the management of the company and are subject to significant risks and uncertainties.  
Actual future events or results may differ materially from these statements as a result of various factors, including: unexpected costs of device development and approvals, unanticipated outcomes after more expanded pre-clinical and clinical experience with the devices, unexpected changes or delays related to product supply, potentials for unexpected regulatory or quality delays or developments, competitive dynamics, global economic conditions and customer acceptance, and other economic, business, and/or competitive factors. The forward-looking statements speak only as of the date of this communication. Except as required by law, The Company undertakes no obligation to update these statements.
CoreVista is a trademark of CardioPrecision Ltd.