CardioPrecision Ltd, a technology company developing medical devices for the treatment of structural heart disease and cardiothoracic interventions, has recently launched its suite of CoreVista® devices for use in Endoscopic Vessel Harvesting (EVH) during coronary artery bypass grafting (CABG) surgery.
EVH is a technique whereby bypass conduits are harvested endoscopically from the limbs through a tiny incision just below the knee or at the wrist of the patient. The endoscopic technique replaces the very long incisions associated with traditional open vessel harvesting.  EVH is fundamentally an on-screen procedure.
"The CardioPrecision product is the world's first to bring a screen into the operative field within direct sight and control of the EVH operator. Our goal with this innovation is to make EVH faster to learn for new operators, provide more comfortable work condition for seasoned operators to avoid sick leave from neck and back strain injury, and enable more efficient equipment setup in the usually very crowded operating theatre." said Dr Ying Sutherland, Chief Executive Officer of CardioPrecision.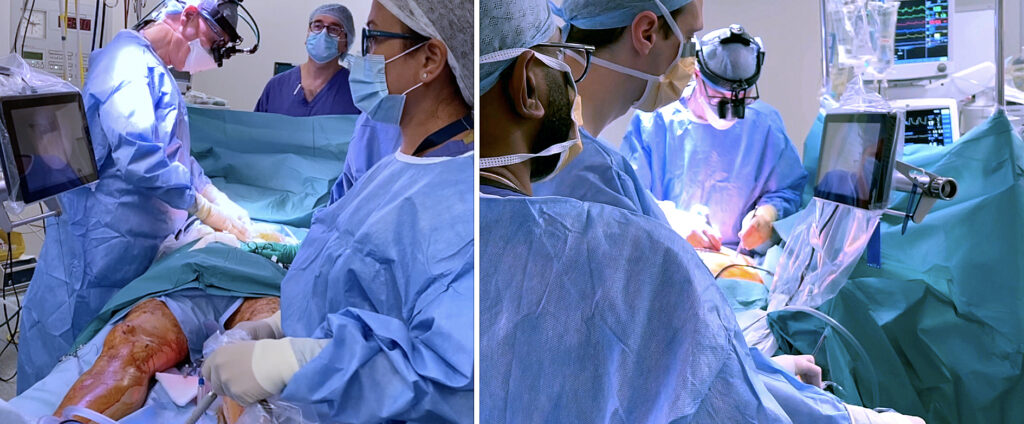 Ms Marimel Olivar, EVH Clinical Application Specialist at Getinge, is a seasoned operator. She shared her thoughts after performing six clinical cases using CoreVista® devices " I love it!  It is great to finally have a monitor that I can control myself and positioned in front of me for my comfort and ease of use. I can't wait to do my next cases."
Mr Fraser Sutherland, Consultant Surgeon and Chief Medical Officer of CardioPrecision commented, "EVH is fast becoming the standard of care in CABG surgery worldwide.  However, the EVH learning curve is steep for new operators. Good hand-eye coordination is the key to learning the new and complex technical skills required for endoscopic harvesting".
Mr Sutherland went on to explain "The brain is hardwired and there is a functional relationship between head position and arm position when it comes to execution of complex kinematic visual-motor transformation tasks, such as those encountered by operators new to EVH. The CoreVista® devices bring the screen into the operative field and position it immediately above the task space to create the optimal environment for training  and independent clinical practice".
In the United States alone, there are over one hundred and eighty thousand CABG procedures performed each year1. " I am delighted with this innovation and the initial clinical experience in the UK, and very excited to see the company progress into this promising new market.", commented Dr Roshan Maini, Chairman of CardioPrecision.
1 Source: STS Adult Cardiac Surgical Database: 2021 Update on Outcomes, Quality and Research.
About CardioPrecision Ltd
CardioPrecision Ltd, based in Glasgow, UK, is dedicated to making patients' lives better through the development of innovative, less invasive solutions for cardiothoracic surgery and cardiovascular interventions.  For more information, visit www.cardioprecision.com
Cautions
This news release includes forward-looking statements. These forward-looking statements include, but are not limited to, statements regarding expected product benefits, anticipated product approvals, future plans related to the product lines, the benefits of the transaction, including future financial and operating results, objectives and expectations and other statements that are not historical facts. Such statements are based on the views and assumptions of the management of the company and are subject to significant risks and uncertainties.  
Actual future events or results may differ materially from these statements as a result of various factors, including: unexpected costs of device development and approvals, unanticipated outcomes after more expanded pre-clinical and clinical experience with the devices, unexpected changes or delays related to product supply, potentials for unexpected regulatory or quality delays or developments, competitive dynamics, global economic conditions and customer acceptance, and other economic, business, and/or competitive factors. The forward-looking statements speak only as of the date of this communication. Except as required by law, The Company undertakes no obligation to update these statements.
CoreVista is a trademark of CardioPrecision Ltd.